Capsules
Buy CBD Capsules Online
At Budsandbeyond we are proud to say that we have the largest selection of soft gels and CBD (cannabidiol) capsules for sale. All our products are made from the highest quality hemp that is grown industrially. Most of our products are made from hemp that is made here in Canada. However, we do offer you some great options from Europe as well.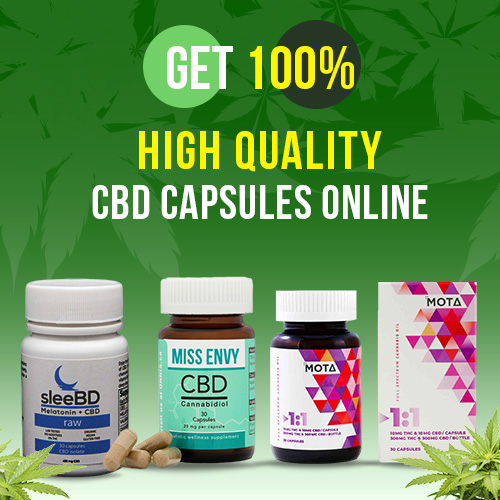 Show Filters
CBD Capsules for Sale
The capsules offer you the same benefits that you would get from CBD tinctures and raw oil. However, here you do not have to worry about the difficulty of measuring the right serving size. So, if you want to buy CBD capsules you now know that you should buy them from us. We all love to start with tinctures because of the flexibility that they provide in this regard.
Medical Benefits of CBD Capsules:
The CBD tablets offer so many benefits that it would be hard to list them all over here. However, at a basic level you should know that they help you combat the following conditions:
anxiety
depression
stress
pain
ADD (attention deficit disorder) and ADHD (attention deficit hyperactivity disorder)
PTSD (post-traumatic stress disorder)
epilepsy
insomnia
So, if you have any such condition you should look to buy CBD capsules online.
How to Make CBD Pills?
To ensure the desired CBD level, some basic ingredients are required. You need some empty capsules, a dilutant like a bit of coconut oil, and of course, CBD oil. The easier option is to buy CBD pills.
How to take CBD Capsules?
All you need to do is swallow the pills, but be careful and don't choke.
How to Store CBD Pills?
The CBD pills need to be stored in a cool and dark place. Keep them away from children and pets.
CBD Capsules Side Effects
Like any other form of cannabis, you could experience side effects when you take cannabis oil pills for sale.
So, while CBD is safe for consumption, there are times you may experience some common side effects like changes in mood, nausea, drowsiness, and dry mouth. Certain medications react negatively with CBD, so it is important to consult your doctor before starting it. Avoid it if you're pregnant or breastfeeding. Check out details about who should avoid CBD online.
How to Store THC Pills?
THC capsules last longer than most marijuana products, and storing the pills is easy. The pills should be stored in a dark and cool place, away from excess air. The terpenes and cannabinoids in these capsules could be damaged due to light, moisture, and heat, making them less psychoactive. Neither will the oil give you a high; the taste would be terrible too.
Check the expiry date before buying THC pills. Keep these pills away from children and ensure they are properly labeled. These pills could be lethal if they fall into the wrong hands. It's your responsibility as a cannabis user to take all the precautions mentioned here.
THC Capsules Side Effects:
You can't predict the high you might feel after taking cannabis pills, so start all weed edibles at a moderate dose and go slow. It could take a while for the full effect to show, so before you increase the dose, ensure there is a sufficient gap between the two doses.