Boost
Order Boost Edibles Online in Canada
Boost Edibles Canada is a cannabis company that offers some of the purest and most potent THC or CBD-infused edibles. Although relatively new to the cannabis market, they have built a reputation for themselves, thanks to their exciting range of products made with the best ingredients out there.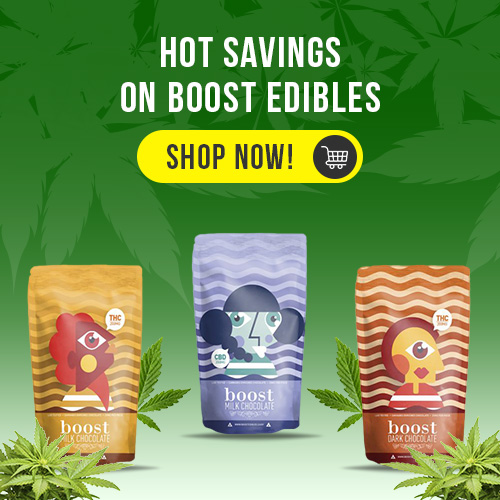 Show Filters
Showing 1–16 of 19 results
Try Boost Edibles – Order Now and get up to 20% Off
Boost Edibles with their delicious and popular products such as the Boost Edibles CBD gummies and the Boost Edibles THC gummies show that THC and CBD products can be as fun to eat as regular candy irrespective of how potent they are.
Boost Edibles is entirely owned and run by Canadians who are extremely passionate about marijuana and work together to bring to you specially hand-crafted edibles made with distillate extracts of the highest quality. All products are organic and non-GMO, and no testing is carried out on animals. The company prides itself on delivering all-natural, plant-based treats that will do wonders to your mind and body and taste good at the same time. All the product ingredients are transparent and accessible to all buyers, and you can visit Budsandbeyond today to place your order for products like the Boost Edibles gummies.
Most companies in the cannabis production business don't believe in sharing the ingredients used in the final product.
Claims made by companies include specially chosen ingredients, delicious flavors, and an unmatched high every time you consume their unique offering. Customers end up consuming edibles that have the ingredients they are looking for. Boost is one company, however, that believes in complete transparency regarding the contents of its edibles.
Boost believes in providing a variety to their customers, so you will get more than just Boost Edibles CBD gummies. Those who are patrons of THC edibles can try the Boost Edibles THC gummies. Whether you choose THC or CBD, you get the best cannabinoids with premium isolates and distillates.
Boost Edibles in Canada have the purest CBD and THC. The result of this strategy is a powerful combination of highly concentrated and extremely potent yet tasty treats!
Finding mouthwatering cannabis edibles is a challenge. Companies promise you exciting flavors like fruity blasts or rich chocolate, but all you get is the taste of cannabis. The weed is so powerful and overwhelming that the flavors are lost, and this completely ruins the edible experience.
What makes Boost different is that you have a variety of exciting flavors to choose from and won't feel like you're having weed. Take your pick from different flavors like milk chocolate, cherry, or sour watermelon that give you a high but don't taste like an edible weed!
If you're looking for tinctures, Boost has you covered with the 1500 mg CBD oil. This is the perfect natural tincture since there are zero added ingredients, chemicals, or flavors. What you get are pure CBD isolate and organic MCT oil. Get the best CBD tinctures since only pure, premium-quality oil is used.
The two flavors that have become the most popular among both THC and CBD users are green apple mushroom-infused and extra-special cherry gummies. Take a trip to any part of the universe with these magical candies. Each pack has a gram of mushrooms.
With subtle flavors and highly potent effects, Boost has won the hearts of consumers.